UPDATES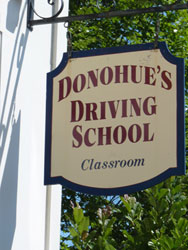 COVID-19 INFORMATION


ONLINE CLASSES
Donohue's classes online with Zoom
We are now offering all of our classes online via Zoom.

We will be contacting currently enrolled students in regards to moving their classes to an online model in light of the COVID-19 outbreak. After you have been contacted, you will need to email the Registry of Motor Vehicles.

The RMV states: please notify us by email at RMVdrivingschools@dot.state.ma.us, and use the subject line "ONLINE CLASS CONFIRMATION" so we can appropriately monitor.


RMV UPDATE -- TEMPORARY ONLINE DRIVERS ED POLICY
Due to the evolving situation with COVID-19 (coronavirus) and to help protect your staff and your students, the RMV is implementing an alternative to in-classroom driver education during the State of Emergency that was declared by Governor Baker on March 10.

Through a temporary policy, the RMV is allowing Driving Schools to offer online driver education training during this emergency period only. The RMV will continuously monitor the current emergency and will keep you informed about the timeframe in which driving schools can offer alternative training.

To ensure consistent, quality education, the RMV offers the following guidelines for this type of driver education instruction:
• Identify an online training solution that will be used (Zoom, GoToMeeting, Webex, online interactive computer-based training, etc.);
• Ensure instructors are familiar with how to operate and use the instructional method that you are implementing; and
• Identify methods in which you will ensure each enrolled student completes the course.


Temporary Policy Clarification

• An online class option can be delivered for both classes that have already begun as well as new classes only during this emergency period.
• Students will not be allowed to transfer from a school that does not offer online classes to a school that does. Students must complete classes at the original school in which they started classes, which is consistent with the RMV's current transfer policy.
• Final exams to complete driver education are still required. Students must take and pass the final exam in person prior to scheduling a road test. Please use appropriate social distancing guidelines to facilitate completion of this requirement.
• Driving schools are required to return to classroom-based instruction once the emergency period is over; at that time, the RMV will contact you and let you know that online instruction will no longer be allowed.
• For those schools who choose to continue in-classroom instruction, please use appropriate social distancing guidelines. No classroom should have more than 25 occupants, including any instructors.


Confirmation Requested

• If your school decides to implement a non-classroom (online) driver education program, please notify us by email at RMVdrivingschools@dot.state.ma.us, and use the subject line "ONLINE CLASS CONFIRMATION" so we can appropriately monitor.
• Please include in your email the online training solution you are implementing and the number of instructors participating. The latest information on the state's response to COVID19 can be found at Mass.Gov/Coronavirus.
---
An important message from Donohue's in regard to COVID-19
At Donohue's Driving School we put your safety first. We are taking all precautions to ensure that our students have a clean and safe driving experience. At this point in time with COVID-19 we wanted to make you aware of what we are doing to ensure our students' safety.

• all of our cars are extensively cleaned and disinfected every morning

• student drivers are handed an antiseptic wipe for their hands and to wipe down steering wheel, shift lever, emergency brake, and door handles

• closely monitoring our staff and enforcing any and all to stay home and not drive if they display even the slightest of symptoms

We also ask that our students prepare for driving by doing the following:

• wash your hands thoroughly before you are picked up to drive

• avoid touching your face

• cover your mouth when you cough or sneeze with a tissue, then throw the tissue in the trash

• avoid contact with people displaying symptoms of being sick

• stay home and notify us if you feel sick

Thank you for your patience and understanding.
Donohue's Driving School